I worked for a high mountain, rural Internet company for a year and a half. When I started at the ISP, I knew little to nothing about the intricacies of higher level networking and was thrown into the fire so to speak. I started out as an installer for individual clients but before long I was starting to work on major networking equipment and with that, the need to remember many passwords…and many, many more ip addresses. Luckily, I had access to documents with these bits of information that I sorely needed but it was still a bit overwhelming. Towards the end of my tenure at this ISP, a colleague of mine introduced me to mRemoteNG, a remote connections manager, to assist me with all of the ip addresses and remote connections that I had to maintain. This is my review of mRemoteNG.
First Use
The first thing I noticed was that my download was free. Yes, mRemoteNG is a free, supported, open-source program and is the next iteration of the popular mRemote application (the "NG" stands for "Next Generation"). Upon opening the program, the next feature I observed was all of my saved PuTTY sessions were automatically transferred to mRemote into a neat little folder. After looking deeper into the application, I found that mRemoteNG will automatically transfer saved VNC as well as Remote Desktop Connection sessions. So before I have even set up my first session, mRemoteNG has organized my major remote clients into one easy to use GUI. Already, I was impressed. I then manually set up a telnet connection to a Cisco switch that was 30 miles away. Configuring this connection took less then a minute and I was able to save the user name and password so that in the future, I only have to click the connection to telnet directly to administrative mode on the switch.
Continuing Use
The more I used mRemoteNG, the more I discovered the hidden, powerful features that would make any IT's job easier. The GUI is completely configurable and runs almost as a modern browser with multi-tab windows and excellent rendering of websites and virtual desktops. One can connect remotely using 10 supported remote connection protocols including HTTP, telnet, and ssh. This allows for simple and total control of all of the remote connections in ones life. I should clarify that mRemoteNG is for Windows users only. So sorry Mac and Linux fans, you will have to find a different program to suit your needs (of which there are many such as coRD or PuTTY). One interesting suggestion in order to fully utilize mRemoteNG in a contemporary cloud-based society is to save the backup files of your configurations to Microsoft OneDrive (since mRemoteNG works with windows) so that your con-figs can be accessed anywhere. I am sure other file hosting systems can give you the same functionality as well.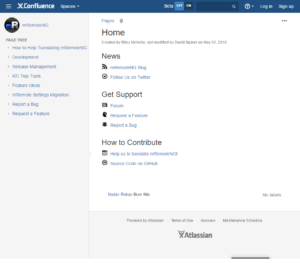 Final Thoughts
mRemoteNG is a powerful program with many positive features. However, the program is a bit much for the average home user. If you only have a Remote Desktop Connection to your media center and a connection to your router or a couple of basic connections, mRemoteNG is way too excessive. But if you have to manage hundreds of connections, then mRemoteNG is clean and simple remote management program that can make an IT's job significantly easier and more efficient. One other issue, I have found is that mRemoteNG is a bit unstable on windows 10 machines. It does tend to crash occasionally but as mRemoteNG is supported by active developers, they will work to fix this minor inconvenience. Overall, I give mRemoteNG a TechPirate grade of B for the casual user as it is way overpowered for home use but I give it A+ for the computer tech that has many remote connections to manage.
Stay tuned for more Reviews, Tips, and How-to's from TheTechPirate.
—————————————-
Images taken from mRemoteNG Website
Check it out for yourself Here