An interesting device has recently emerged in the Amazon Prime exclusives section, manufactured by little known company BLU. BLU is a company based here in the states, Florida to be precise, that started making phones in 2009. Their tag-line is "Bold Like Us", hence BLU as their name. They make "affordable, attractive, and innovative" phones as quoted from their website. Today we're talking about the R1 HD, an Amazon exclusive phone. For prime members the phone starts at $49.99, non-prime members start at $99.99. The base model phone includes 8gb of storage, and 1gb of memory. For $10 more you can get 16gb of storage and 1gb of memory. This upgraded version will be the one we review here.
Appearance and build quality
The R1 HD has a surprisingly good feel to it. The appearance is a bit generic, as most budget phones are, though this takes a lot of cues from Apple devices, and an important cue from the Lumia line. The edge of the phone is reminiscent of Apple's exterior antennas. It's rounded glass corners are similar to the high end Lumia phones. USB micro (B type, not the new C type) is located on the bottom, along the right side you'll find the volume rocker and power switch. Along the top is the 3.5mm audio jack. The back contains the 8 mega-pixel camera, flash and speaker. The camera has a noticeable bump around it, so the phone doesn't lay completely flat, a slim case would fix that minor niggle. Camera performance is average, and low light performance is sub-par. Speaker performance is about average as well, sound is loud, but has a definite tinny quality. On the front of the phone, in addition to the stunningly beautiful (for the price and resolution) 5 inch, 1280 x 720 screen, is the 5 mega-pixel front facing camera. It does include a front flash, which may be a big feature for some. Back to the screen though, it is GOOD! It's very bright, so bright in fact that it almost hurts to look at inside with the brightness all the way up. Colors are a tad washed out from time to time, but honestly it's better looking than my day-to-day phone (The Lumia 640 XL).
Performance
FPS in Pokémon GO, and Real Racing 3 stay easily in the playable range. Web browsing is quick, on both Straight Talk's 4g (my provider) and Wi-Fi. No 5GHz N or AC unfortunately, but honestly unless you're working with more than 100 Mbps of actual Internet speed it's not going to matter. Multi-tasking is responsive, as is touch input. It won't floor you with "balls to the wall" performance, but for a phone well under the $100 mark it's amazing. Its 1.3GHz quad-core processor (The MediaTex 6735 ARM cortex) handles the day to day, and light gaming with ease. I have yet to see it struggle even with several apps open in the background. For my typical usage, which includes a few dozen e-mails, light gaming, music, several phone calls, and web browsing, the phone lasts all day with plenty of power to spare once I return home. The GPS takes a few minutes to stabilize when using Pokémon GO, but it seems to track rather well after that.
Software
Amazon bloatware abound, many, many amazon apps in addition to the usual smattering of Google apps. The underlying OS is a nearly undisturbed version of Android 6.0 Marshmallow. However, part of getting the phone for so cheap is the built in ads. They're only displayed on the lock screen, but it can be quite distracting. The lock screen is usually personalized with photos, or background art, but when you don't have any notifications on display, the ad takes over the entire lock screen. When you have notifications it releases the background, and instead injects an ad into your notifications. Once you get into the phone there doesn't appear to be any additional ads that I have found. One way you can kind of get around this is to use a third party lock screen app. You'll still have the standard lock screen (with ads) behind it, but if you really care about glanceability and the lock screen look it's worth sliding twice.
Final Thoughts
Let's be honest with ourselves, if you're looking for a bleeding edge flagship phone, this is not it. If you're on a tight budget, need something that will run all of your daily apps, and runs Marshmallow this is the phone you're looking for. If nothing else this is a device that proves just how good tech is getting for such a low price range. With a phone this cheap, and specs this good (given the price) the third party support for this phone should be fairly amazing. XDA forum members have already found a way to unlock, and root the phone, as well as created a few scripts to clean the device up from all of Amazon's apps. I've already done this, and as long as you follow the directions it's quite easy. With a little love (and cracking) this little phone can easily be a daily driver you fall in love with. It could also be a great backup phone, or first phone for your teens. Overall the BLU R1 HD gets a TechPirate grade of B, for its full functionality, price, and overall feel. It loses points only because of the poor low light performance on the camera, lock screen ads, and excessive bloatware.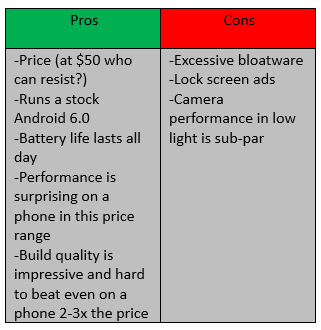 Oh… and for those of you who enjoy the box.
---
Manufacturer website here : http://bluproducts.com
Amazon link here: https://www.amazon.com/