Hello Tech Pirates!
The Problem: No sound or very low sound (even with volume maxed) from the handset speaker during calls. This specifically deals with the Lumia 640 XL (Dual and Single Sim Versions), although it may be worth looking at for other Lumia devices.
Difficulty: 2/10
Time: 10-15 Minutes
The Fix: Remove the back cover of the phone, find the top 3 Torx screws (T-5 Driver Bit) and tighten them. This should fix the problem. Be VERY careful that you're not over tightening them, it shouldn't be a strain to screw them in, just get them snug. While you're in there it doesn't hurt to double check the other T-5 screws too. (I apologize now for the picture quality, I was forced to use the BLU for this picture since the 640 XL is my main camera)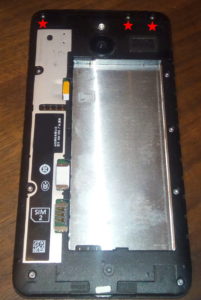 The Reason: So apparently if you own this type of phone you have to be very cautious about removing the cover from the bottom of the phone first. If you remove the top first you're backing the screws out, and this will eventually pull the speaker far enough out of place that the seal surrounding it will no longer touch the front. This causes little or no perceptible sound to be made.
The Back-story: I've had the 640 XL for going on two years, and bought the international version since it released quicker than the US version. I've had my problems here and there with it, mostly software bugs and carrier inconsistencies. However it's been sitting around for the last few months in my backup drawer just in case I needed it. Having been using the BLU R1 HD as my daily driver it's been unused for the last 5 months. With the BLU now dying (article forthcoming) I needed to switch back. I've figured out all of the software side, between tweaking settings, and the updates that have happened since my last use. I've been using it for the last 2 days until this morning I answered a call and heard nothing. After attempting a restart no change was noted, it was just dead. Bluetooth, and wired headsets still worked fine, just not the built in headset speaker. After backing up what little was on it I performed a factory reset, and still nothing. Then when I got home for lunch I tried restoring it using the Windows Device Recovery Tool, it failed 3 different times on 2 different machines before I finally found the right combo of USB cable, computer and luck. After all of this, still nothing.
The Legal Bits: As with any how-to/DIY we are not responsible for any ill that comes of you or your device! Treat all unshielded electronics as though they're static sensitive, because usually they are! Be safe, and use common sense. If you have any uncertainty STOP and seek expert aid. Happy computing!