Let's face it, when it comes to routers, there are a near infinite amount of choices. My quest was quickly limited by both budget and location. I've used enterprise grade equipment in the past, favoring my Cisco 2800 in combination with a stand-alone access point. Unfortunately, it must finally be retired; this launched me into a fervor of research. I quickly narrowed down my local options to a single unit, and purchased it. Today we'll be looking at that unit, the Linksys EA6400.
Basics
The Linksys EA6400 is an internal antenna design, operating in both the 2.4ghz and 5ghz spectrum. A combined throughput of 1200mbps is advertised, though in reality this is highly optimistic. Located on the rear are: four 10/100/1000mbps switch ports, a single 10/100/1000mbps WAN port, one 3.0 USB port, a DC in, WPS button and reset button. A single indicator light on top is the only light visible from the front. Port activity is located on the back along with the ports. It's honestly a very pretty router, but it does kind of lack the ability to glance at it and see where any problems exist. For those of you interested in alternative firmware a cursory glance at DD-WRT shows that it's not fully supported, but for the daring the forums hold instructions on updating it anyway. The Smart Wi-Fi app (android and iOS) by Linksys is interesting enough at this point to keep me from throwing DD-WRT/Open-WRT or TomatoUSB onto it. If/when I go through the process I'll definitely put it up.
Setup
The Smart Setup included works great, even advising you of firmware updates during the process. Within about 10 minutes of unboxing the unit was set-up for average users. Being an atypical user, it took a few more minutes of tweaking things in the main settings (DHCP, DNS, Static Routing, etc.) and it was fully up. One interesting note is that most of these settings are available in the Smart Wi-Fi app, so even if you forget to open up a port, or change the guest password, you can do it from your phone. The app is impressive enough that there may be a separate review of it later (as I use it more).
Performance
As you can see below, the speed test tells no lies. My newly upgraded service through Spectrum (ie. Time Warner) is now back to full speed getting a respectable 114mbps down and 11mbps up. Local file transfer from server to desktop (wired) averaged between 55MB/s and 60MB/s which translates to about 480mbps. Keep in mind, this is a real-world number, and very dependent on the server, desktop and router. In this particular test, the bottleneck is in the server, as the read speed of the hard drive installed in it tests at about 60-65MB/s. The important thing to note is that in my test setup the router is not the bottleneck. So kudos to Linksys on this one. Wireless speeds support this data, and average between 55-60MB/s while in the same room. Speeds do drop off the further out you go, but overall range is good! In my area and installation location, I can easily connect from the street, alley, and in all corners of the yard. Keep in mind, I'm in a single story, manufactured home, on an "in-town" lot (read small, but not tiny), your mileage (or in this case yardage) will vary.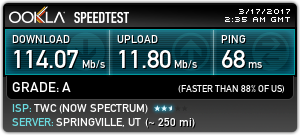 Overall
Honestly, I wasn't initially excited by this purchase. When I think about buying a new router I usually conjure up the idea of the new Linksys WRT series, ASUS RT series, or one of the Netgear Nighthawk series. Something flashy, expensive, bleeding edge new, and "gamer" centric. After spending time with the EA6400, I'm really quite impressed! It blends into my server rack, didn't make my wallet cry, and provides all the performance I need in my house. Sure, it's not bleeding edge, nor will it break any speed records, but it's a good, solid performer. My only suggestion to Linksys on this (and my only "con") is the lack of a front facing status light, showing Internet connection (red/green). It's a niggle of a con, I know, but it's something that would be easy enough to do, and make it a better product overall. Would I suggest it? Absolutely. Happy computing!
Product Link Amazon.com