Cut the cord!!! With tech these days moving from  using bulky wires to utilizing modern wireless, even the traditional keyboard has "gone mobile" so to speak. There are so many different wireless keyboards out there that are designed for the gamer, the professional, as well as the casual user. A common issue is battery performance in many wireless peripherals but some companies have thought ahead of that problem. For my needs, I chose to use the Logitech Wireless Solar Keyboard K750. Here is a review of this unique unit.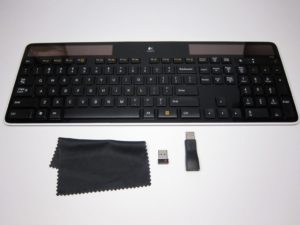 Price
$40.99 on Amazon (3-20-17)
$59.99 on Logitech.com (3-20-17)
Features and Specs
-Uses 2.4 GHz wireless
-Plug and Play
-Solar Powered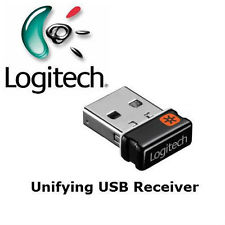 Initial Reaction
The K750 is incredibly easy to use directly out of the box. All you need is some light and a free working usb port for the wireless extender and Logitech unifying receiver. When you grab a hold of the K750, the first thing you notice is weight. At over a pound and a half (26.5 oz specifically), it actually feels quite substantial even though it is incredibly thin. The keyboard is only .26 inches thick (7 mm for my metric system users) while still providing a full size QWERTY layout with numpad and all. The interesting part is that even though it is so slim, it is by no means delicate. However, there is some malleability if you twist the keyboard, so I would definitely not recommend letting a young child use this without supervision. The keys themselves are solidly built with enough travel in them to let the user know they are still typing on a quality keyboard. Going with that, I have not noticed any sort of ghosting issues or lag on input when typing and there is no sticking or catching of keys when compressed.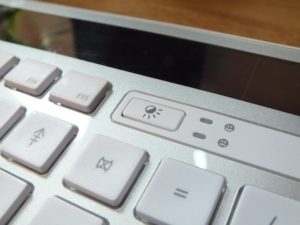 Battery
The top of the keyboard boasts two large photo-voltaic cells (solar panels) which charge the keyboard so it is good idea to use the keyboard in a sunlit room. The Logitech website recommends that only a "modest" level of light is needed. The K750 does come with a "Light Check" key that gives the user instant input on if the keyboard is receiving enough light. Green light and a smiley face means you are all good. Red light and a frowny face means you are running on battery power. It does not get more simple than that. The keyboard also has an excellent battery life for when you are stuck in the dark. Logitech claims that the K750 can run for three months straight on a full charge. Now, I have not tested this claim, but I will say that the keyboard has never run out of power in the time I have been using it.
Software
There is not much to the Solar App software that you can download from the Logitech website. It is basically a GUI version of the "Light Check" button. That is not to say that it is not useful. The Solar App provides information on reserve battery life as well as the amount of light the unit is receiving in real time. There are also some little bits of information given on past energy usage as well. The other software that works with the K750 is Logitech's SetPoint, which allows some customization of the keyboard's F-keys or FN keys.  Sadly, I discovered that the software does not work on Linux machines but the keyboard itself will still work with your favorite flavor of the operating system.
Final Thoughts
Overall, the Logitech Solar Wireless Keyboard K750 is a fine product that does its job very well. It adds a very stylish, modern, and clean look to any professionals desk and works very well as a media center keyboard.